Happy Monday! We hope that you enjoyed the weekend!
Being pregnant means getting to enjoy fun products such as cute graphic tees (such as our "It's a boy/girl" tees available on www.moodymamas.com). While some of the products out there are a little cheesy, some are pure gold. We are always looking for fun presents that will give an expectant mom a laugh and lighten her mood . Here are some of our favorites for that mom-to-be who has a great sense of humor:
*Don't pregnant ladies love all things pickle? Probably not so much, but if your pregnant friend seems to really be enjoying pickles during her pregnancy, give her some pickle lip balm. Silly and ridiculous, but it will be sure to make her smile. (see above).
*
Nothing says "prepared" like the "Dirty Diaper Survival Kit". Perfect to give to a mom or dad-to be, this kit comes with all the tools necessary to tackle diaper duty!
* Is your friend worried about losing her beauty sleep once the baby arrives? Get her some "ear plugs" to ensure her some rest!
* Are you going to a co-ed baby shower? Get the daddy-to-be all the tools necessary to handle diaper duty with confidence via the "Diaper duty belt"
* We know that 8 year olds might be too young to receive botox, but what age is appropriate for getting a tattoo? We think that these "baby tattoos" make a hilarious gag gift!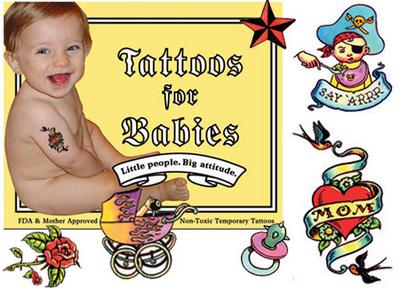 Have a great day!
xoxo,
The Moody Mamas