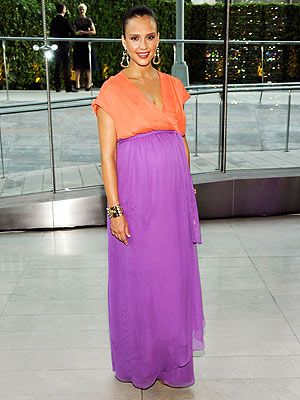 Hip and hot mamas are bustling around tinseltown and we can't help but be inspired by their style picks. Hollywood style is totally doable for all moms to be, whether you are walking the red carpet or dashing to a doctor's visit. Here are some of the latest looks we have spotted on some of our favorite pregnant celebrities:
* Captivating in Color. Jessica is always a beauty, but she was absolutely glowing in this color-blocked Diane von Furstenburg dress she wore recently to the CFDA awards. You too get get this look by looking out for a long flowy dress that has empire waist and two toned fabric.
* Pretty in Pastels. Kate Hudson has been looking fab while expecting her second child. A lover of boho chic style while pregnant, Kate's gorgeous canary yellow hater styled gown made her shine at her "Something Borrowed" premiere. (as seen above).
* Stunning in Stripes. Selma Blair along with other celebs are loving the stripes and we are too. This look is chic and casual, perfect for a summer day.
Have a fashionable day!
xoxo,
The Moody Mamas