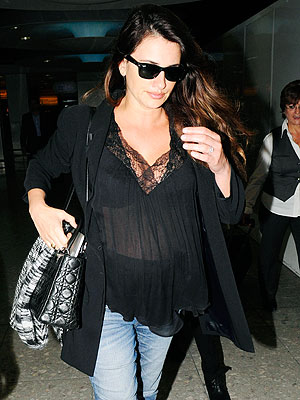 Today is exciting day because we are off to style Jen Schefft Waterman for her upcoming "Us Weekly" Shoot. She will be wearing a Moody Mamas outfit for the special event of course:).
Jen is gorgeous and looks great in everything we put her in. She is one of those lucky ladies with a great figure and actually "glows". For the shoot, we will be using pieces from our collections that are available on www.nordstrom.com and www.moodymamas.com so you too will be able to dress like this fabulous gal! Still not sure how best to accessorize her...any ideas? We have been seeing so many awesome hot fall trends and want to make sure we hit the mark. This is "Us Weekly" after all...
Speaking of "Us Weekly"...we are seeing an interesting fashion trend lately on pregnant mega-stars that we think is courageous- the see-through maternity top. Ms. Cruz is sporting this style in the upper right picture. Yes, she looks fabulous in anything, but we are not so sure about the see-through look when you are pregnant. We are all for looking sexy and we believe that you should strut your stuff when preggers, but it kind of looks like she is wearing her lingerie to the airport- which is just a strange concept. What do you guys think? Would you wear this shirt to run errands or out to the playground with the kids? A PTA meeting? If you vote yes, be on the lookout for a similar look next season!!
Lastly, keep entering our Halloween giveaway contest! We are loving the pics you ladies are sending us!!
xoxo
The Moody Mamas